This guide was originally written and published in 2020 and has been updated. Some dishes and products may have changed since.
Why do so many people plan their vacations in the summer? It's finally nice here in Buffalo and there's approximately 20 festivals every single day. We've been on a mission to find fun experiences worth traveling for in the winter and started off on a good foot heading to Woodstock, New Hampshire. The White Mountains are absolutely stunning to see in real life and they have plenty to do year round. Check out our guide to see what to do and where to stay:
ADVERTISEMENT
Day 1:
Checking into the Woodstock Inn Brewery
135 Main St, North Woodstock, NH 03262 / Website
First things first, you'll want to check into a comfy hotel. Our recommendation: The Woodstock Inn Brewery. Here you'll find accommodations inside the facility and surrounding houses, one being the Cascade Lodge. The mountain theme flows through the room by incorporating plenty of wood furniture and decor, surrounded by iron outlines of animals and trees.
The room amenities include, a sitting space surrounded by wood furniture, TV, and fireplace as well as a luxury bathroom with a spacious jacuzzi tub. Even their toiletries are worth mentioning –sticking with the brewery theme, they had little containers of lotion made with hops and beer soaps.
They have 40 different rooms and suites located within six different buildings on the property. Although they are not on site, they work with a local health club to offer gym, indoor pool, and spa for guests. It's the perfect place to stay while visiting the area.
Right in the Woodstock Inn Brewery is their restaurant that has been voted the White Mountains favorite restaurant for 8 years, so we knew we had to check it out. Pro tip: start with a flight of beers. We had a flight of rotating favorites like Frosty Goggles (a red pale ale), Mosaic Papaya Pale Ale, Juice Pulp IPA, Milk Stout, and Moody (notes of mango, citrus, and papaya). To compliment the beers, the brewery also has great range of appetizers. We started with their seafood chowder and a crock of their French onion soup. Usually when it comes to French onion soup, let's be honest, the cheese is the best part. However, the broth was so salty and flavorful we literally were tipping the bowl to get it out.
ADVERTISEMENT
We'll be honest, we were skeptical when one of the most highly rated restaurants was inside a brewery. We thought it would just be your everyday basic bar food like burgers, but we were very pleasantly surprised. Nothing wrong with burgers, of course! We were just amazed at the variety, quality, and the service. Everything was absolutely outstanding. Keep in mind, they also offer brewery tours of the facility right on site. 
Visiting the Ice Castles
24 Clark Farm Rd, North Woodstock, NH 03262 / Website
There's plenty to do year-round in Woodstock, New Hampshire, but one main thing that brought us there was the ice castles. If you want a quick getaway, they have it every single year in the same location so you can start planning your trip now. These ice castles are actually only in six places throughout North America including Alberta, Utah, Colorado, Wisconsin, Minnesota, and New Hampshire.
The award winning ice castles are created by artists using hundreds of thousands of icicles and they were absolutely huge! You can spend a lot of time roaming around discovering all the nooks and crannies, hidden tunnels, and taking photo ops. If you go during the day the ice is absolutely beautiful with a natural blue tint. We chose to go at night because we figured it would be more of an adult crowd and seeing them lit up is an experience all of its own. The color radiates through the ice sculptures making it look like a fairytale.
Before leaving you have to make your way down the ice slide. They give you this mat to sit on, and trust us when we say it was fast. You're really whipped down!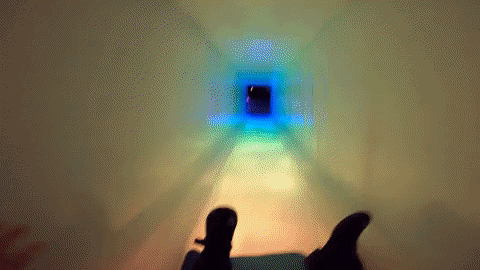 Day 2
Breakfast at the Inn
Looking for an easy bite? Grab free breakfast at the hotel restaurant. We thought it was going to be your typical hotel breakfast with some spongy eggs at room temp and maybe some sad looking half cooked bacon or cereals you haven't had since you were five years old, but they proved us wrong big time. They actually provided a sit down breakfast that involves coffee, juice, sticky buns, and two entrées. We split the breakfast platter filled with hot berry pancakes smothered in butter and maple syrup, cheesy eggs, home fries and the Pacific omelette with real crab, asparagus, and home fries. Everything was absolutely delicious!
SledVentures Snowmobile Rentals
514 US-3, Lincoln, NH 03251 / Website
Once we were full and caffeinated, we made our way over to SledVentures Snowmobile Rentals. They provide everything you could possibly need. Once we were suited up, the two guides Steve and Danielle brought us out to the snowmobiles to get us set up on our machines. They were actually pretty easy to use even though they appear intimidating. They did a few loops to make sure we were all comfortable using the machines and then we headed up the trail into the mountains.
We rode uphill, staying as a group, breaking occasionally to make sure we were all together and to take in beautiful views from the mountains. Once the forest opened up and we were at the frozen over pond, we had the freedom to whip the machines around and really go full throttle. There were even fun bumps made naturally by the wind that you can fly over. It was an absolute blast! Heading back down the mountain you can tell everybody was more comfortable with their machines and didn't want the tour to end. The entire tour was about two hours. The guides make you feel safe and protected and always make sure they're keeping an eye on everyone.
ADVERTISEMENT
DirtVentures ATV Rentals of NH
514 US-3, Lincoln, NH 03251 / Website
If you're there during a different time of year, they still run similar tours that are side-by-side ATV tours through DirtVentures. Although the winter is a beautiful time to visit the mountains, there's plenty to do in the warmer months along with hiking trails to various waterfalls year round. There are so many wonderful waterfalls to see throughout the whole White Mountain area and plenty of them are within a very drivable distance from Woodstock, New Hampshire like the stunning Sabbaday Falls, Swiftwater Falls, Paradise Falls, the Agassiz Basin, Avalanche Falls, and more. The picturesque covered bridges like Kurt Clark's Trading Post in Lincoln nearby, Flume, and Sentinel Pine are definitely worth visiting, too!
The Mountain Club at Loon Mountain Resort
90 Loon Mountain Rd, Lincoln, NH 03251 / Website
Nearby, there's a beautiful spa that is actually partnered with the hotel to offer a gym for hotel guests. We went to check it out and it was gorgeous! They have skiing, snowboarding, Sno-Go (their version of ice bikes that you can use while riding down the snow hill), tubing, snow shoeing, and more! The activities continue in the warmer months with mountain biking, aerial adventure park, zip lining, gondola rides, and more.
Shops and Knick-Knacks 
Roaming around the town, we found maybe the last existing movie rental store that happens to have cigars, beer, AND movie rentals. I mean, what else do you really need? The place next-door called the Purple Tomato (78 Main St, Lincoln, NH 03251) has really fun snacks, desserts, hot sauces and condiments, candies, and even wine!
There's a few cool shops in the area like a general store named Fadden's (109 Main St, North Woodstock, NH 03262) for a little knick knacks and candies. There's clothing stores and even this tiny little shop named Woodstock Pie & Coffee Company (114 Main St, North Woodstock, NH 03262).
Cafe Lafayette Dinner Train
3 Crossing at Riverplace, North Woodstock, NH 03262 / Website
This dinner train combines the efforts of two very talented individuals, the Owner Michael French and the Executive Chef Robin Campbell, to design a menu featuring locally sourced products and seasonal veggies.
ADVERTISEMENT
Black Mtn. Burger Co.
264 Main St, Lincoln, NH 03251 / Website
If you're craving something less fancy and more casual, head to Black Mountain Burger. We started with a few cocktails like their heavily salted rimmed margarita with cranberry and homemade sour mix. Our eyes might've been hungrier than our stomachs because we definitely had some leftovers after ordering their burger loaded with mushrooms and Swiss, chili cheese fries because they're known for their chili, meatloaf, and their corn chowder. The chili cheese fries was our absolute favorite dish. The chili was super flavorful and there was plenty of gooey melted cheese on top. The meatloaf had great flavor and was covered in a brown demi glaze sauce with mushrooms. The burger was cooked perfectly! If you love American bar food, this place will definitely satisfy your taste.
Thank you to the Woodstock Inn Brewery, the Ice Castles, and SledVentures for making our trip a memorable one!
This post was originally published in 2020 and has been updated.
More Getaways